Thinking about the bigger picture
Sophie consulted The Implant Centre (TIC) with multiple issues. On one hand, there were aesthetic inconsistencies that occurred through gum loss around an old tooth-borne bridge which had caused feelings of insecurity about her smile. On the other, she was also concerned with tissue loss around both laterals and, to her alarm, mild pain on the 12 tooth.
During an in-depth consultation, she had to be informed that the 12 tooth wasn't viable at all anymore and that the 22 tooth was also impacted. In agreement with her, it was decided that a four-unit implant-retained bridge was the best course of action.
This case confronted the technical team with circumstances that may be much more variable than usual because grafting procedures do not have a 100 percent predictable outcome. It required the team to calculate correctly which outcome to anticipate from the bone grafting process and at the same time use its adaptability to deal with unforeseen results. The team also had to be prepared to work on the restoration while the patient was waiting in the chair, a particular challenge involving time pressure and careful planning around availabilities for the whole team.
Case planning meeting
In an agreement between the lab and surgical team, the treatment plan was decided upon taking into account Sophie's wishes. Because of the healing and integration periods, the whole team agreed that temporary restorative measures were in order, aware that these would have to be adaptable throughout the course of treatment at the patient appointments – specifically to accommodate the placement of healing caps at a later time – until being replaced by the final restoration.
Pre-surgery laboratory work
In preparation for the extraction upon the first visit, CDL had been asked by the prescribing surgeon to manufacture a three-unit immediate denture. The temporary restoration was designed to fulfil requirements which were established in cooperation between the surgical and technical teams: the denture had to be designed in keeping with Sophie's natural tooth position, but also the anticipation of bone grafting procedures prior to further treatment had to be accounted for.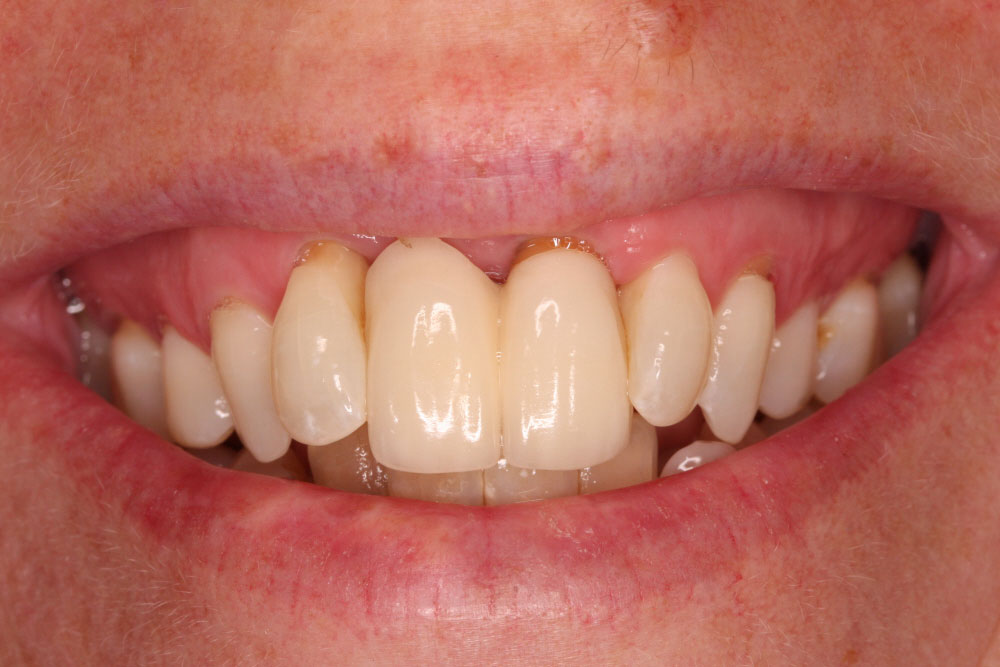 Surgery and bone graft
At the appointment, the 12 and 21 teeth were extracted and a bone graft placed in the sockets. The sockets were closed and the denture fitted. The temporary immediate denture made available for the patient at this appointment incorporated healing space allowing the bone graft to take and the sutures not to get dislodged.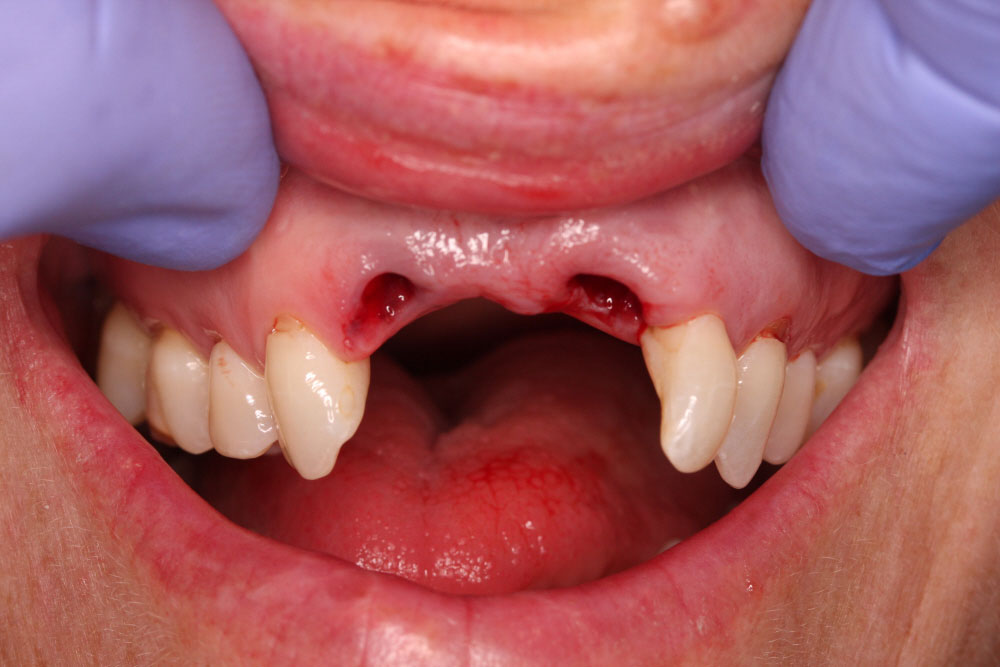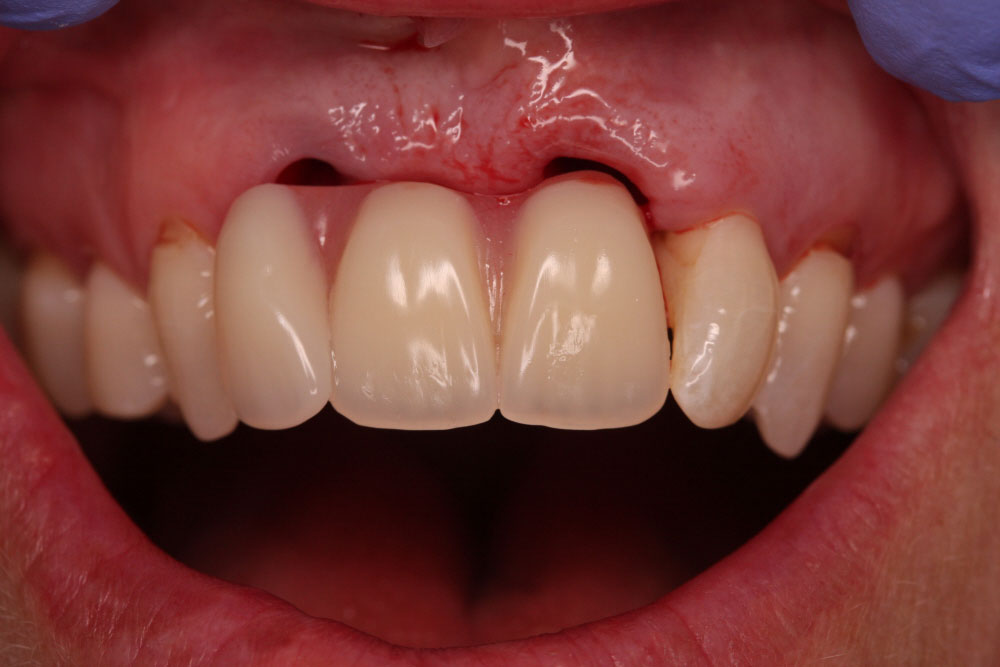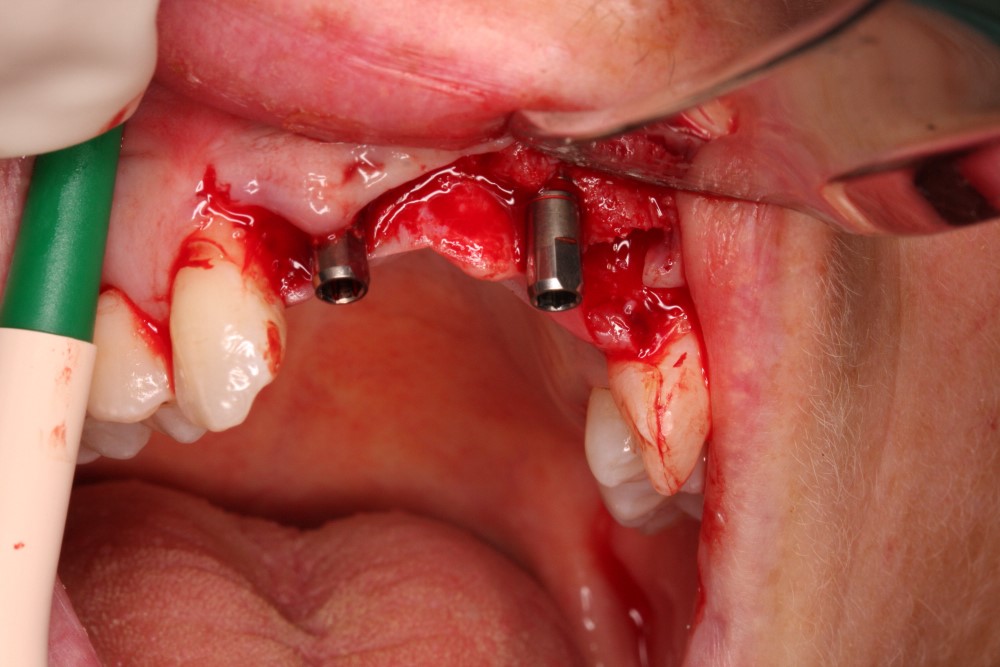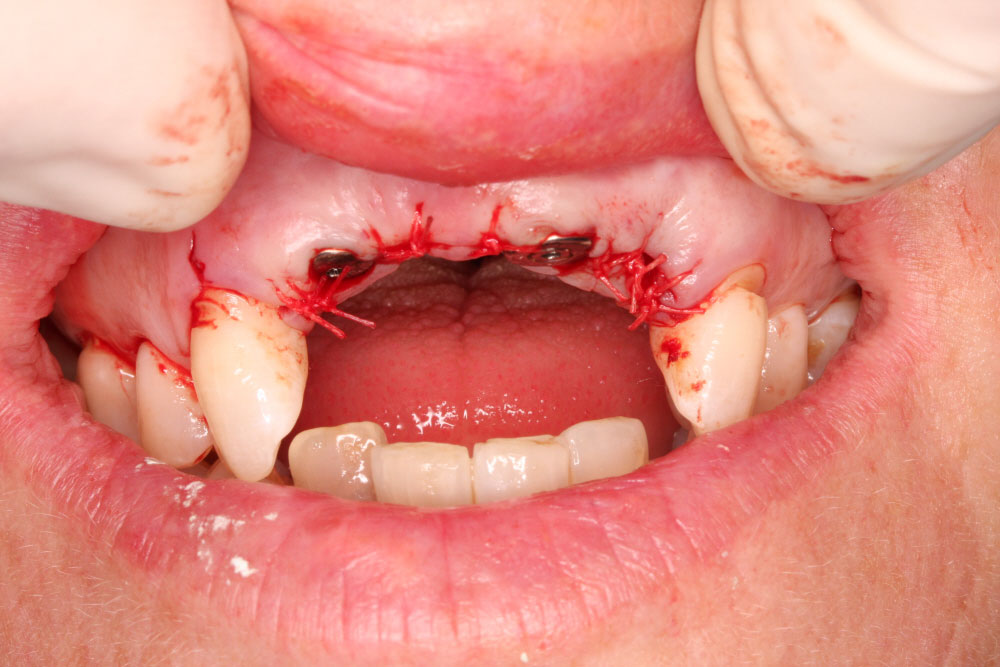 Refinement and adaptation
About eight weeks later the patient returned for a check confirming successful implant integration. With the socket having healed well, Sophie was ready for the next step: sulcus formers removed, scan flags were placed and a trios IOS scan generated.
At this stage, the lab could see from analysing the scan and pre-planning imagery that angled screw access abutments would be needed to make screw retained restorations achievable, that were as close to the natural dentition as Sophie wanted it. This meant that standard impressions were needed – as a prerequisite for Atlantis ASAs to be designed and manufactured.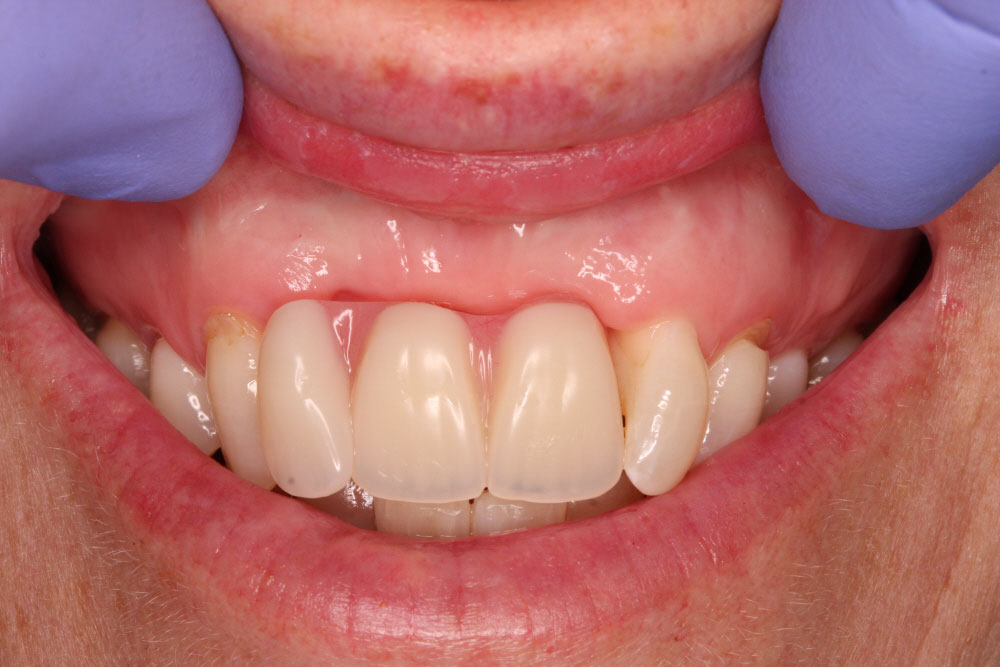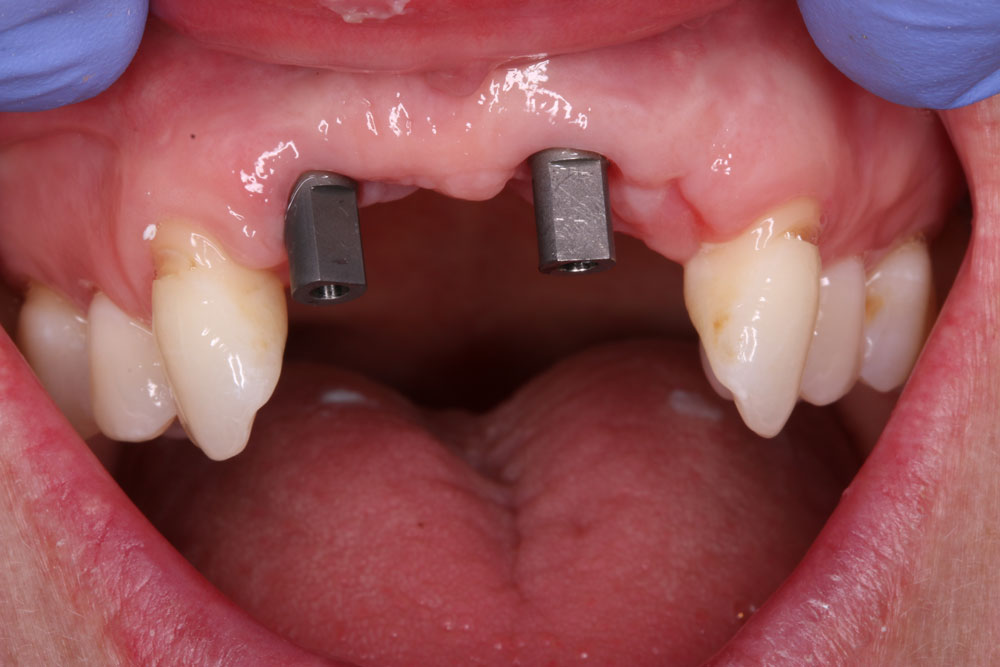 The model scans were sent to Atlantis, along with a scan of the prosthetic envelope, for their technicians to work on. These designs are always checked and modified by a senior CDL technician before being approved for manufacture. After approval of the core file with the finalised abutment design is downloaded in the lab 3Shape design software, allowing CDL to start the virtual bridge design around them. Once the abutments are received in the lab they are placed on the model.
At this point the zirconia bridge, which had been milled in the meanwhile using the lab-own milling machine, is checked for fit to the frame. In Sophie's case, this time-saving strategy resulted in an ideal fit straight away, allowing the veneering porcelain to be applied onto it by one of our talented ceramists for the natural appearance of real dentition.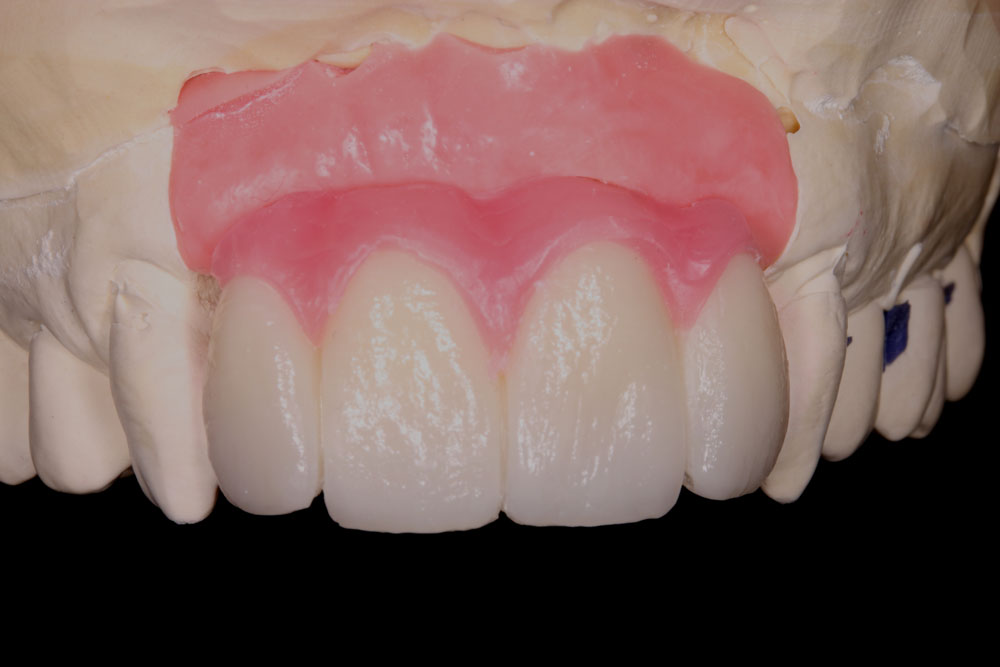 The biscuit bake try-in was provided with an application of pink wax mimicking soft tissue to later be replaced by porcelain. This system using try-in appointments gives an opportunity to the restoring surgeon and patient to spend time with our proposition for the final restoration. On this basis, Sophie herself was able to decide on the perfect tooth proportion and aesthetic pink ceramic contour, papilla length, and colour she wanted and felt right with.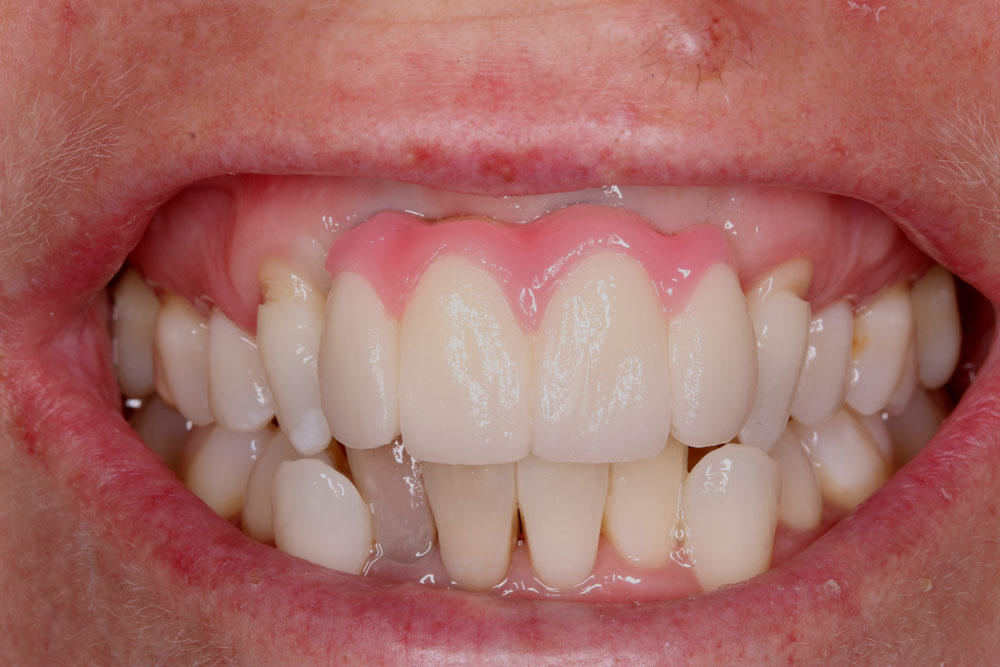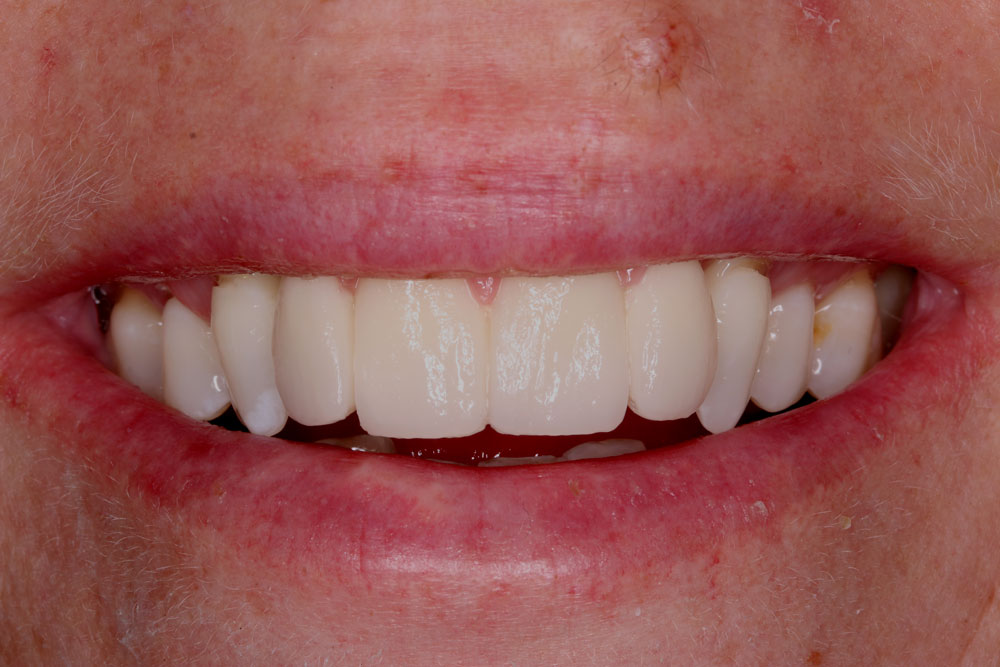 The definitive bridge, on the model, and in the mouth, show how carefully the design has to be considered for soft tissue support and contour. Here the degree of acceptable blanching is visible as the bridge is tightened. At the biscuit bake stage the surgeon had suggested to Sophie to have the canine tips softened for an appearance more appropriate with Sophie's facial features. Further adjustments to the proposed try-in were not required at finalisation by patient or surgeon in this case; the technician transferred the soft tissue contours from wax into porcelain and added characterisation and vitality to the teeth for the patient's final appointment. 
Three month review showing now tissue loss a great tooth proportions, a lovely lateral profile and natural looking pink gum work.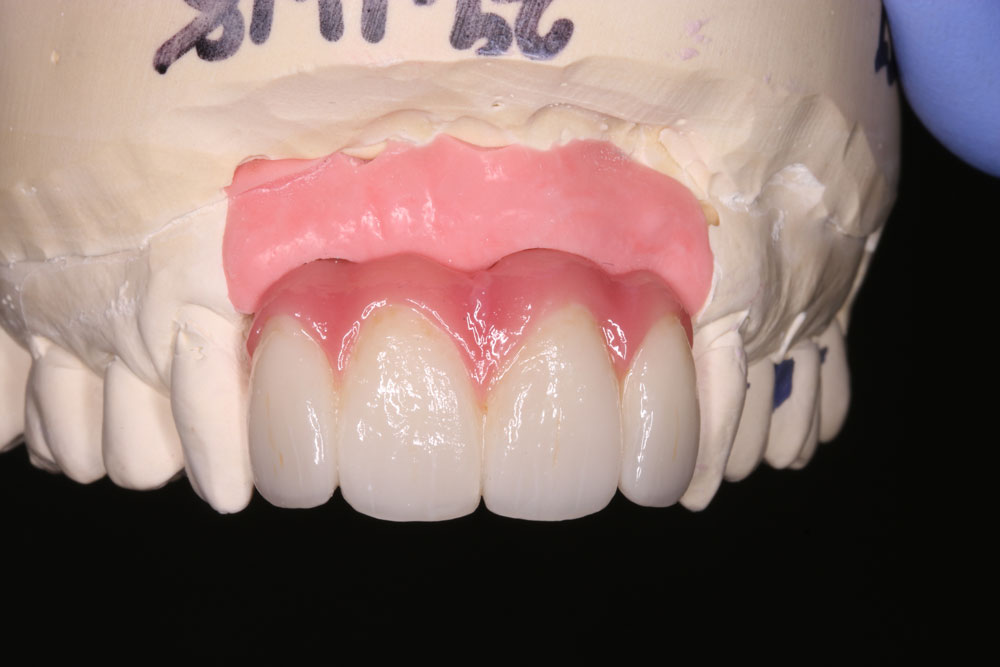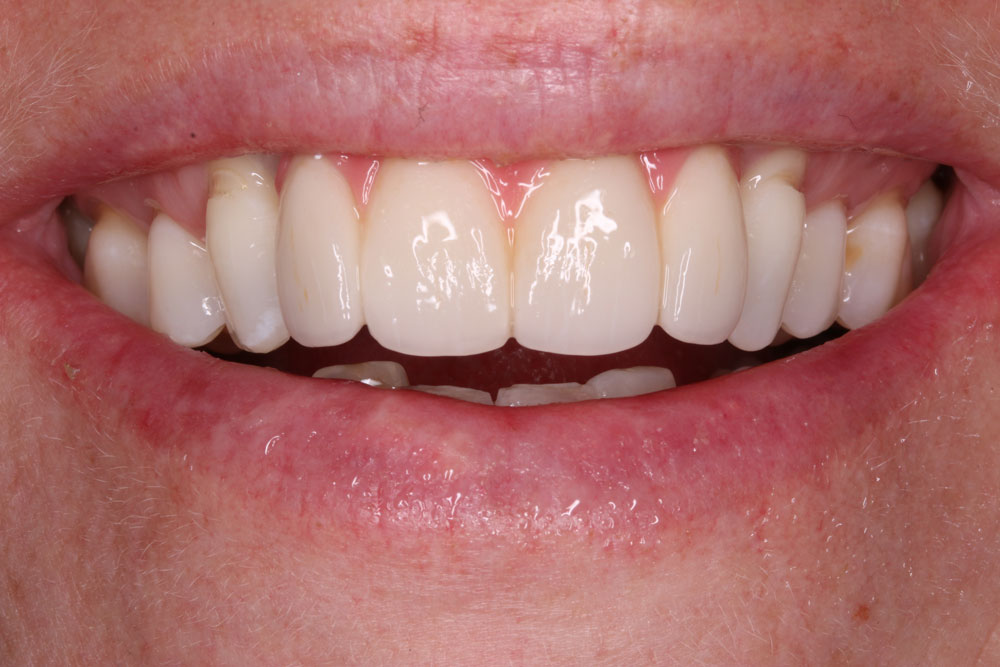 On leaving The Implant Center at her final appointment Sophie kindly left a testimonial with us that demonstrates how our professional cooperation between TIC and CDL have made a lasting positive impact.
Perfect! Martin made my crowns for me and completely changed my smile in the best way!! The whole team were so good at sorting the work for me and I've never been happier with my teeth! Thank you so much! Definitely feeling wedding ready now! X
Excellent lab. I have been using CD for a number of years now for my implant work. It has been brilliant - the work fits like a glove. Recently they just made some anterior crowns for my nurse and they were perfect in everyway. A great team blending customer service with fantastic clinical results. Excellent skills - Thank you.
cony caravotas
2021-06-09
Fab team! It has been such a pleasure to start my digital journey with the team at Ceramic Designs Lab! Jon and his team are so passionate about innovative technology and it shows in their work! From their perfectly-fitting adhesive onlays, our toe-dipping into digital dentures and my occasional quirky requests...no job is too hard for them! Highly recommend!
Makes my job so much easier once I know the lab work has attention to detail and done by someone who understand the nuances of the implant system I use. Great admin team who is always cheerful and prompt with her response!
Attention to detail that takes the pressure off that all important 'fit' appointment. Excellent communicators. Tony's ceramics are exceptional. Thanks.
Can't be more thankful . The attention to detail, the customer service , the communication and advice is brilliant. These guys know how to make dentists happy great fits beautiful work and happy patients . Thankyou tony ❤.
Fantastic communication from lovely staff and beautiful results, they really take the time to see how you work to deliver the best for the patient. A pleasure to work with Jon and Tony! 10/10 would recommend. Meera
Thank you so much These guys just blow me away every time they do some work for me, but today was unbelievable. They made a bridge for my wife that fitted like glove, the bite was perfect without adjustment, and she was delighted with the aesthetics. So thank you all at CD for every job, so beautifully done. May you grow from strength to strength
It is a pleasure to be working with a laboratory with such an understanding of how dental implants work. Please keep your standards as high as they have been ever since I began working with you 6 years ago!
One happy customer! I've been using the lab and working closely with them for many years. Their work is simply excellent, as is their customer service. The implant restorations just drop into place and are so easy to fit and the crowns are superb. I cannot recommend them highly enough. Tim Earl BDS LDS RCS The Lodge Dental Practice, Uckfield