I don't know about you but I often find myself talking about my job assuming that everybody knows all the terminology, materials, settings etc. The truth is that there is no reason why every dentist or technician has to know the difference between FP1 and FP3 or torque setting for Ankylos implants. As a prosthetic tech I know very little about zirconia sintering or root canal treatment.
I was recently talking to a colleague (a dentist) who asked me to explain differences between different types of full arch implant supported restorations. Over the years we have introduced a few more designs and material options to offer and she was finding it all a bit confusing. 
It made me feel that maybe she is not the only one who would like a simple guide of what we do to help with her treatment plans.
This blog is tilted "3"… Three is the magic number for a reason.
I will simply explain 3 major types and categories of implant bridges and provide some information about our 3 most popular implants for good measure.
ONE: Let's start with the classification "FP" (fixed prosthetics) categories based on aesthetic design differences, 
FP1, FP2 and FP3.
FP1 (sometimes called "socket fit") The prosthesis is designed to resemble natural teeth with very little if any pink gingiva.
In my opinion they can be rather challenging, they involve an extreme amount of planning and preparation, often tissue molding and grafting. They can however look very natural and are definitely a good solution for younger patients or when bone reduction is not possible for one reason or another.
FP2 bridge replaces the anatomical crown and an elongated portion of the root with very little or no pink material. This type of restoration is suitable for patients with reasonably low smile line as the aesthetics can look similar to teeth exhibiting periodontal bone loss and gingival recession.
FP3 is the most common design that includes the teeth crowns and prosthetic gum work within the restoration, think "all on 4" and it's quite likely the first picture that comes to your mind.
I always say the more pink the better. Lots of prosthetic space allows us to create not only greater aesthetics but also make sure that the bridge profile is easily clensible and we know that good hygiene is one of the most important factors in successful implant restoration.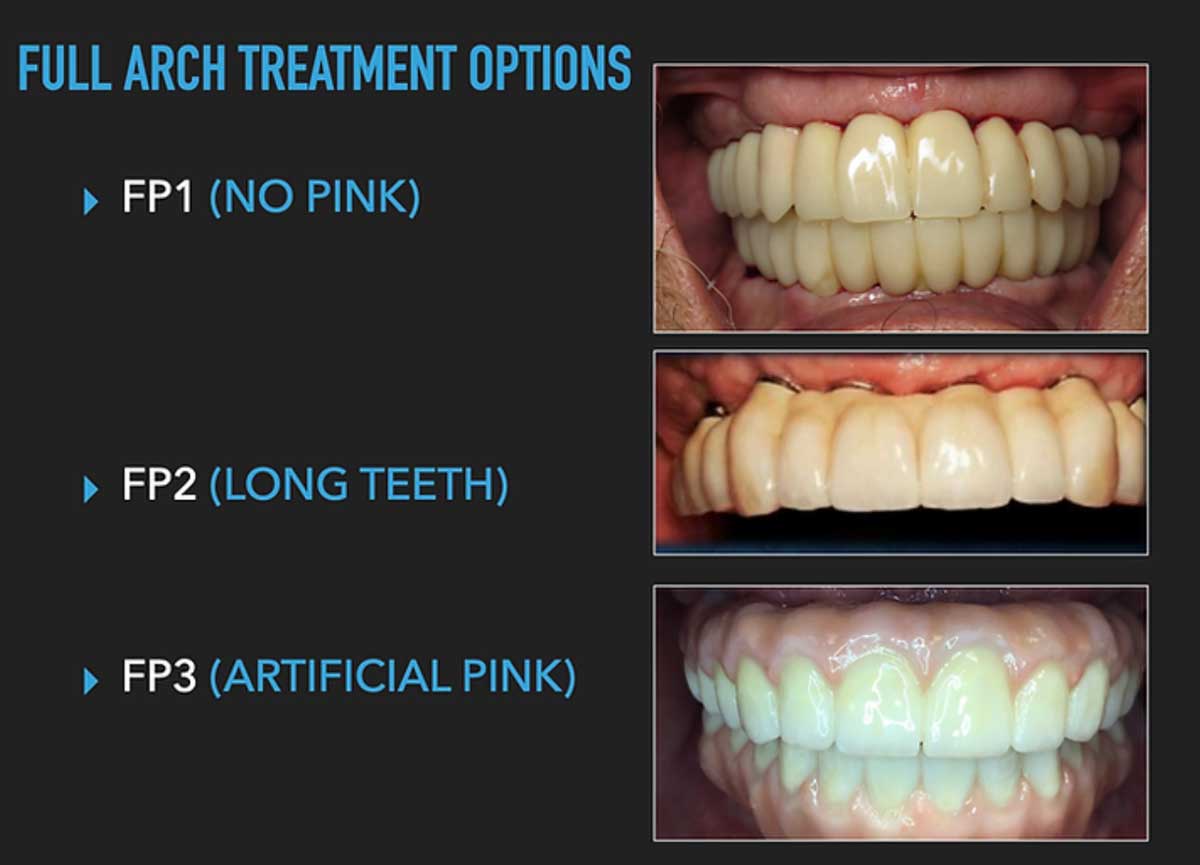 TWO: Now we know the differences let's have a look at the 3 main full arch implant supported restorations we provide, hybrid, taco and thimble.  
Hybrid bridge or "wrap" is an acrylic or composite wrapped milled titanium substructure. We usually finish those with Phonares II teeth and either acrylic or composite gumwork. They provide very good aesthetics and although they are not the strongest restorations they are easily repairable or even re wrappable which means we can if necessary strip them back to metal and start all over. Saying that many of those bridges last for many years with just usual wear and tear that doesn't require any complicated repairs.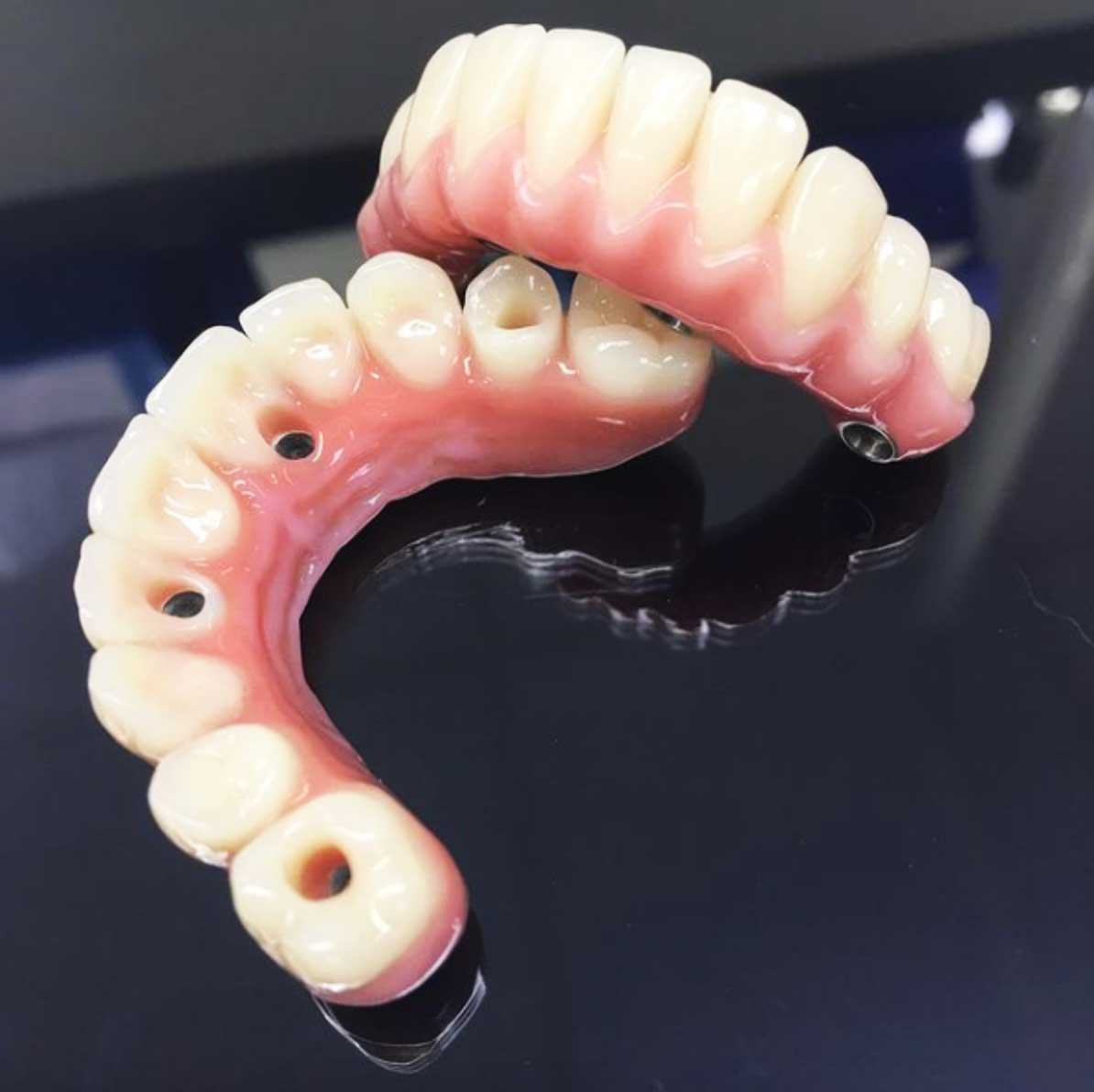 Acrylic and composite hybrid wrap with Phonares II acrylic teeth and custom milled titanium substructure.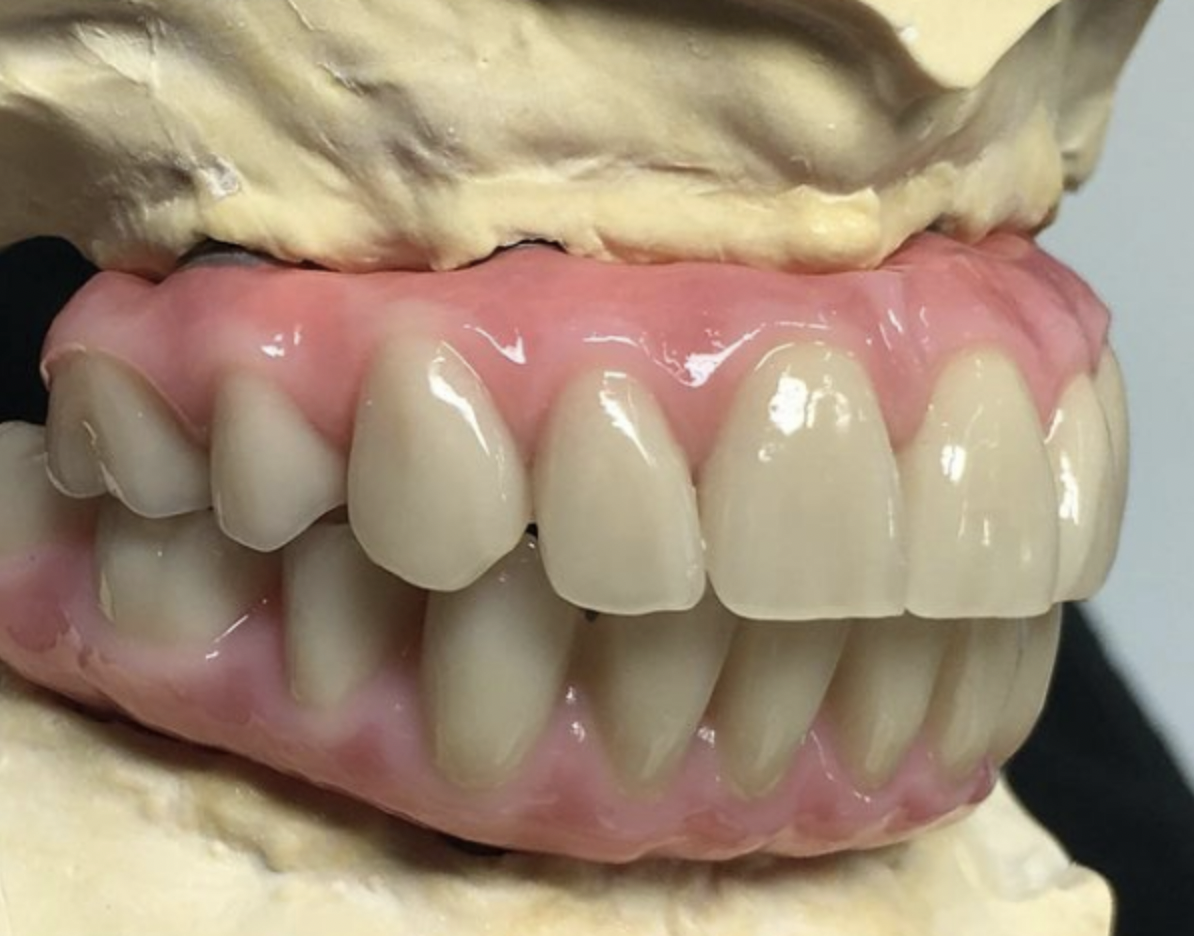 Acrylic hybrid wrap with Phonares II acrylic teeth and custom milled titanium substructure.
In principle the thimble bridge is similar to hybrid but this time each tooth is designed around the wax try-in and milled in zirconia (either full contour or windowed for characterisation with ceramic)
We are finishing them with composite gum work to provide the most natural result. This bridge is strong and beautiful and its huge advantage is the fact that if we need any repairs we can simply re-mill needed teeth without major work on the whole restoration. It also allows us to hide screw access holes without angle correction as some of the crowns can be easily cemented in chair-side after fixing the bridge in patients mouth.
Have look at our study case example here.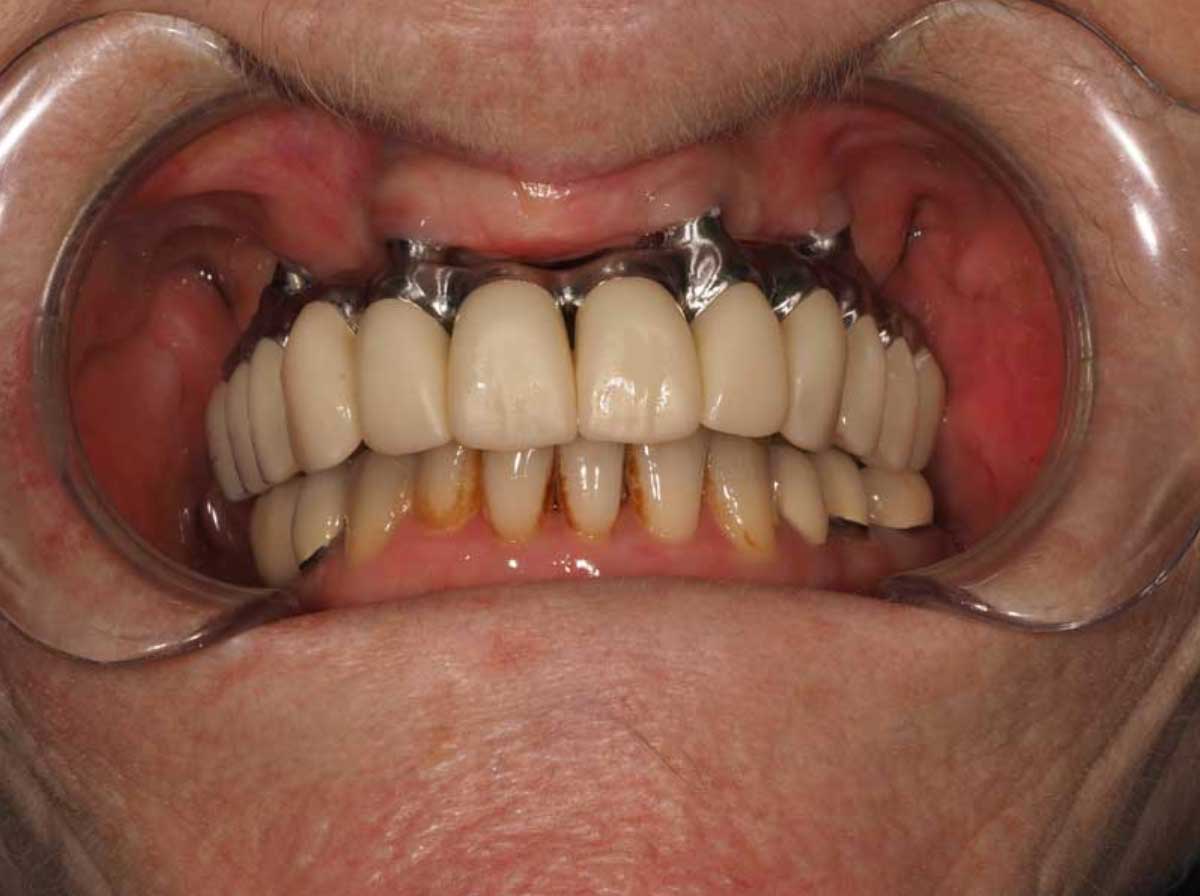 Thimble bridge-metal and bb try in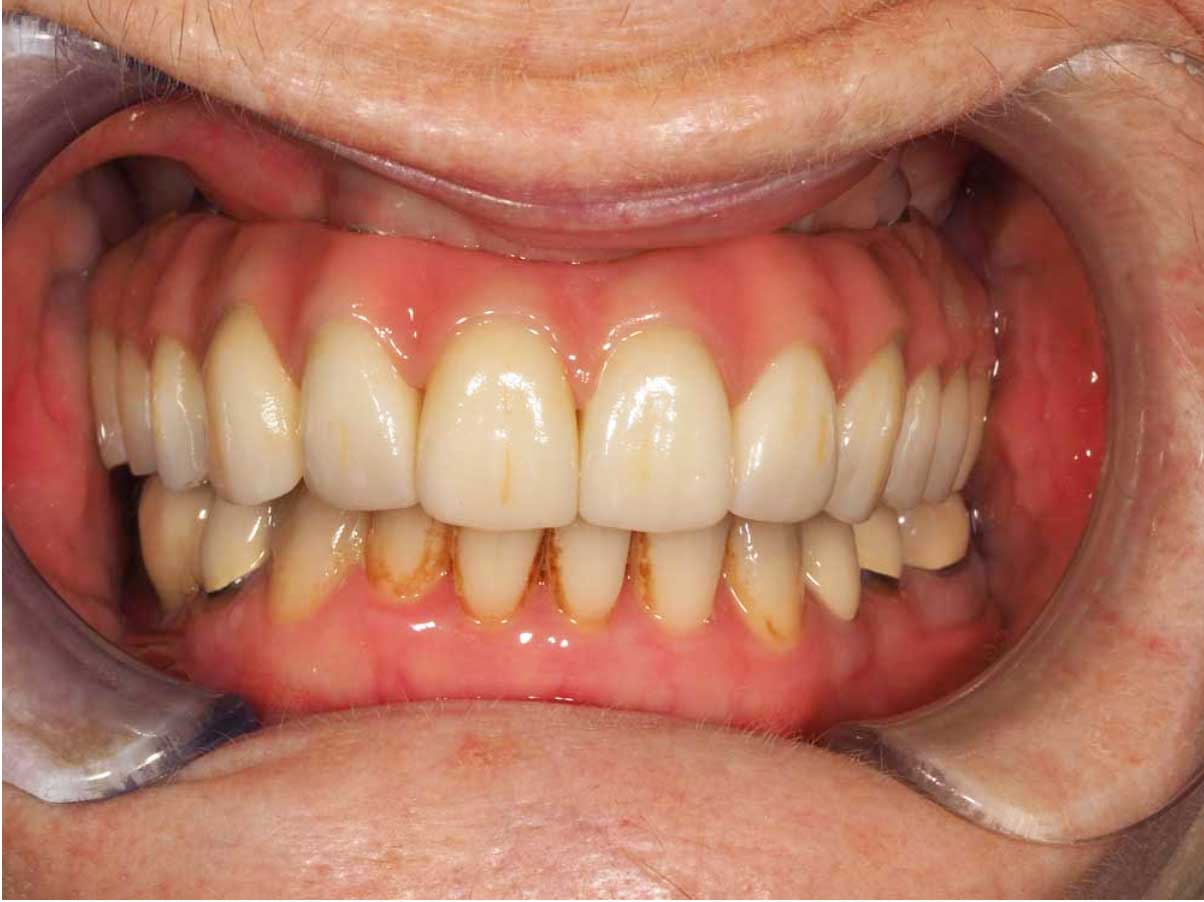 Finished thimble bridge, zirconia crowns and composite gum work.
Next type of bridge we have on offer is called taco and if you suddenly have a picture of a mexican delicacy in front of your eyes you are not far off. Taco got its name due to the design characteristics. It is basically a zirconia full contour "shell" cemented on a high precision milled titanium framework. Those are strong and can feel heavy but with help of our super skilled and talented ceramists we are able to provide you with a beautiful finish product that can look very natural.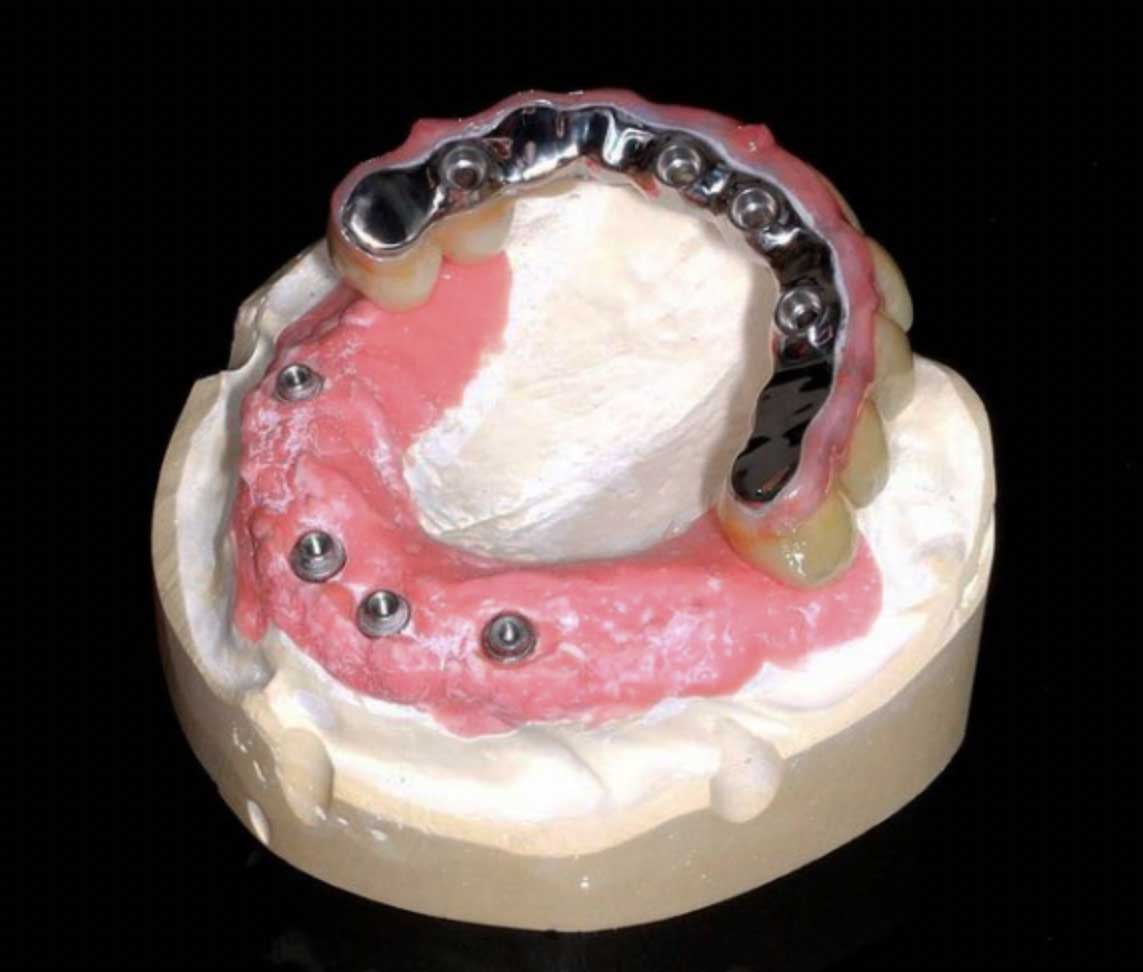 One of our full arch implant supported taco bridges, designed and milled on our amazing Zirkon Zahn milling system.
Both structures are designed digitally, then milled in zirconia and titanium.
And what do we do for the "full mouth" patients? When the maxilla is planned to be restored with taco or thimble we usually suggest a standard hybrid for the antagonist arch which we call "sacrificial" as it can be easily fixed or re-wrapped if the hard wearing upper becomes a troublemaker. We do not advise zirconia against zirconia however every case is different and we love coming up with new ideas like ceramic aesthetic zone with milled resin posteriors or other combinations.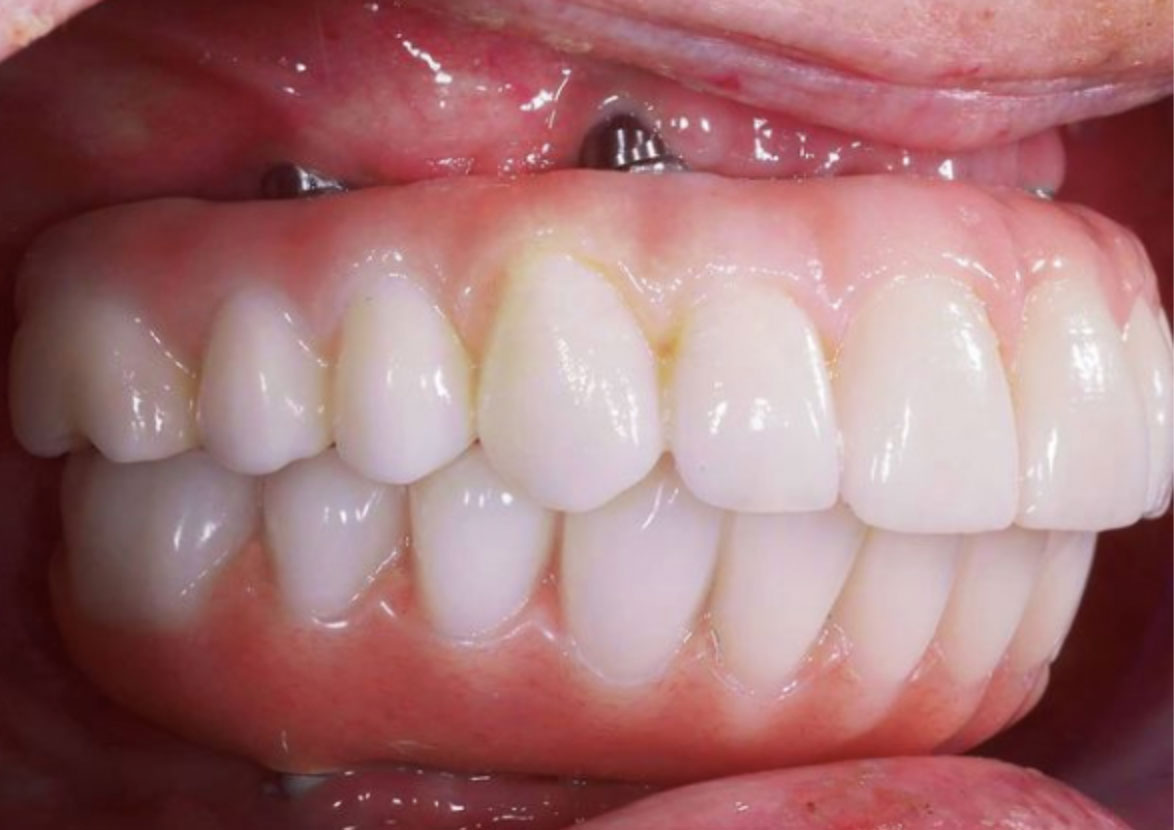 ZirkonZahn micro layered upper taco bridge and ZirkonZahn acrylic wrap Lower.
THREE: Like I mentioned before here are some torque settings for Ankylos, Strauman and Nobel Biocare which are our 3 most popular implants when it comes to full arch FP restoration.
The torque of Ankylos ti-base abutment is only 15Ncm and balance base restorations require 25Ncm for the abutment and 10Ncm for the fixation screw.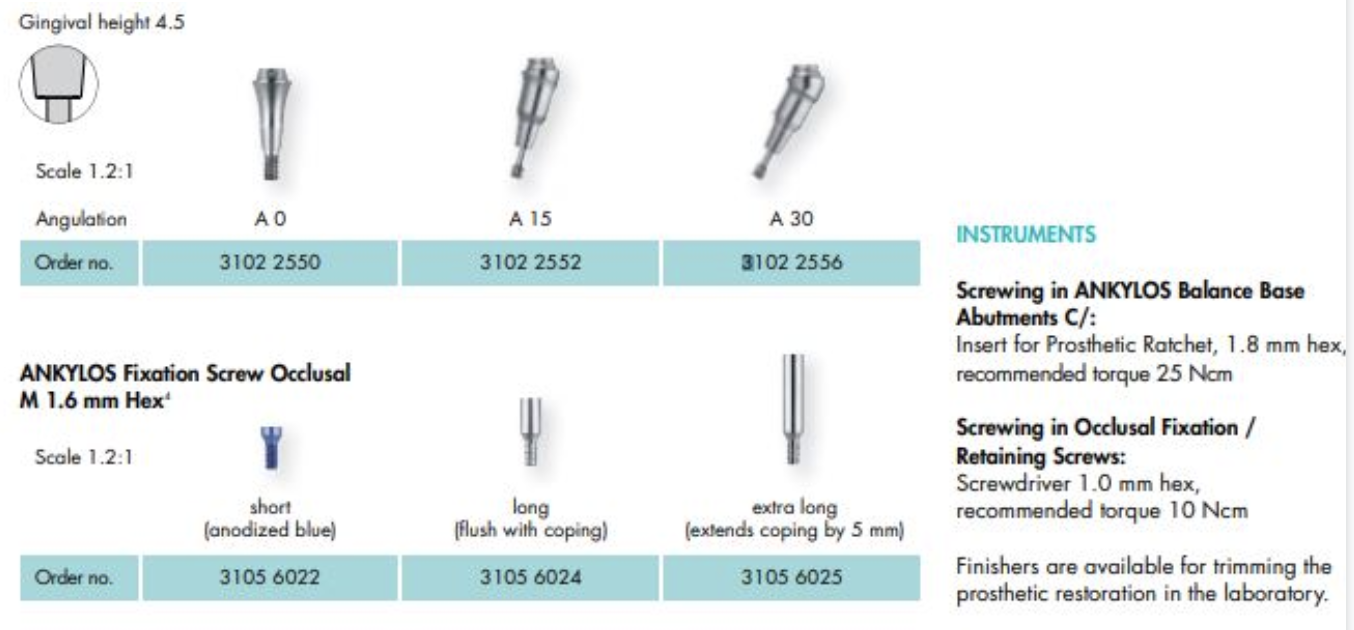 Nobel Biocare multi-unit supported restorations require 15Ncm torque (and 15Ncm to secure the abutment itself) and implant level components require 35Ncm.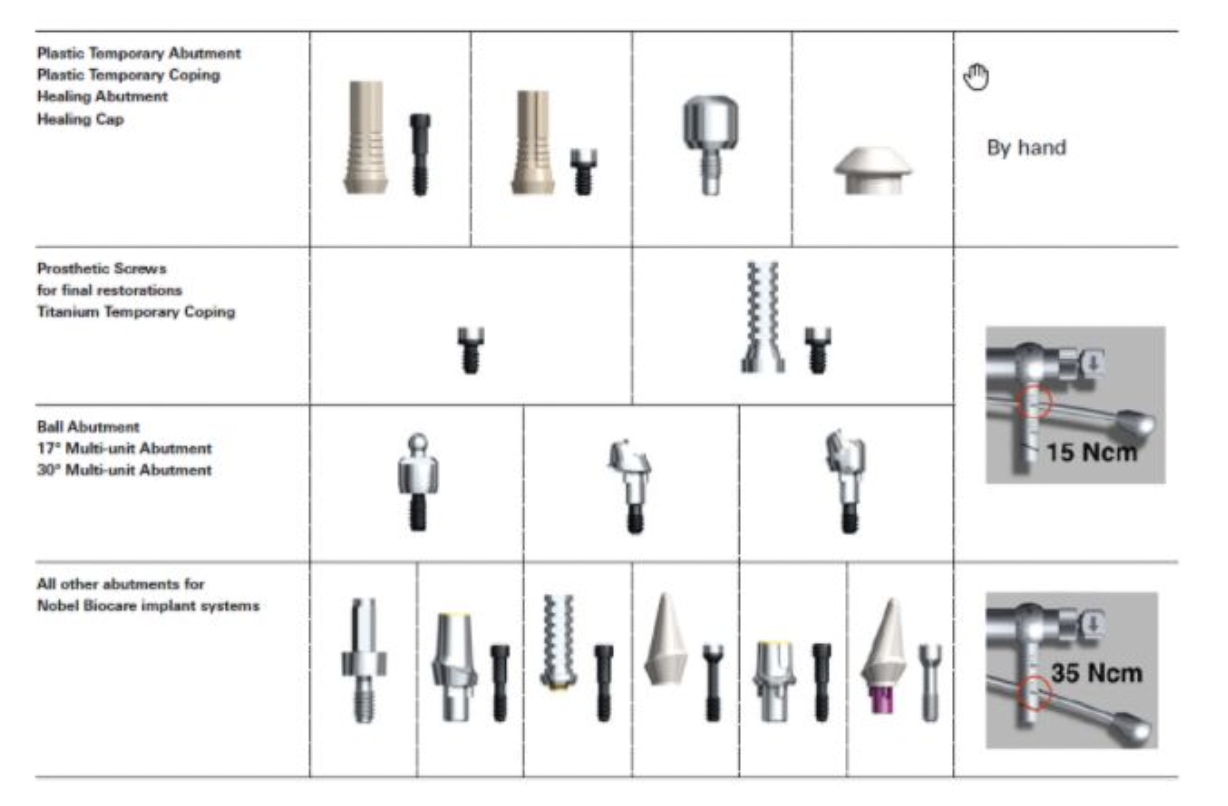 Strauman torque values vary between 15 for temporary abutments  and 35Ncm when fixing permanent restorations.


By Lola Welch, 
Senior Technician
Well done to Julia Glancey for being highly commended Best Technician in this year's Dentistry Awards 2020. We are so proud of her and her work. A big thank you to judges and organisers and congratulations to all the nominees and winners.From the blogLet's work...